Ultra RS is organized in such a way that it can provide a specific solution according to your needs and your applications.
Three axes have been developed in ultrasonic defect control:
We offer the development an application to defect control, specifically adapted to your needs, such as immersion control, control of coarse-grained materials or other specific needs. Depending on the specifications, the "Sensors" and "Sensor Support", as well as the software settings, will be adapted according to your application.
Ultra RS is constantly adapting to offer you services tailored to your needs. We use longitudinal waves, shear waves, subsurface waves, Rayleigh waves and Lamb waves depending on the application and the geometry of the part to be inspected. We also offer thickness measurements, determination of Young's modulus and Poisson's ratio, for all types of materials. Especially on metal parts from additive manufacturing where the classic method is inapplicable.
UNDERWATER AUTOMATIC CONTROL OF STAINLESS STEEL BARS
This ultrasonic inspection system uses a spinning device to cover 100% area on cylindrical bars. These systems can be manufactured with different dimensions and for multiple bar diameters depending on inspection needs. The main applications are for the search of defects, inclusions, delaminations, cracks, porosity … We carried out among others: the control procedure, the design and the assembly of all the elements of the tank, the control software and the qualification of the equipment in the presence of the customer.
SURFACE WAVE CORROSION CRACK DETECTION
This ultrasonic control system uses 8 sensors to control different areas of metallic parts without disassembling and covers or coating. We carry out, among other things: control procedures, design and assembly of the ultrasonic equipment, control software and the installation on an industrial site.
OTHER ACHIEVEMENTS
Ultrasonic system using creeping waves for the detection of cracks in coarse-grained material. This system can detect cracks located at depths between 1 and 12 mm.
Training is an integral part of our defect control services.
We offer:
Specific training on thickness measurement and material characterization (modulus of elasticity and Poisson's ratio)

 Training according to your needs and requests.

For example, specific programs on the use of special ultrasound techniques (Lamb waves, surface waves, creeping waves, immersion …).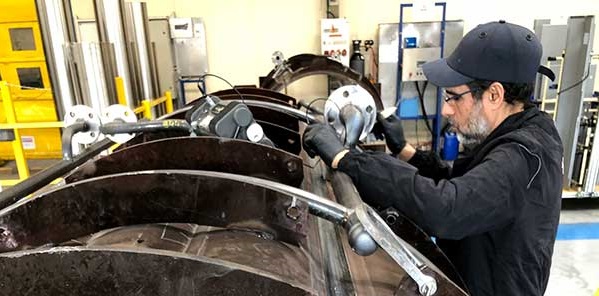 Ultra RS
We develop solutions for non-destructive testing and material characterization by ultrasound. Industrialists of all kinds, to ensure the quality, reliability and safety of your production and assembly lines and to achieve significant savings, contact us!

3bis rue de la Maladière
10300 SAINTE SAVINE